IMPORTANT ANNOUNCEMENTS! Lost Somewhere on vinyl on May 5, 2017! For the first time ever, the classic first Geraldine Fibbers album Lost Somewhere Between The Earth and My Home will be released on vinyl. This is the first time the album has been in print at all in over a decade! This comes to fans via Jealous Butcher records... The album, featuring the lineup of Carla Bozulich, Daniel Keenan, William Tutton, Kevin Fitzgerald and Jessy Greene, has been remixed for vinyl by Steve Fisk ho originally recorded the album for CD. It features four bonus tracks including a brand new track "Thank You For Giving Me Life" featuring Carla, Bill and Kevin will Nels Cline and Jessica Moss. The record store day official link is here. And the Jealous Butcher link is here... The first 1,000 copies will be pressed on clear vinyl.
CARLA will be opening for SWANS at one of their last shows on Thursday, November 2, 2017 at Warsaw in Brooklyn, NY. Tickets are on sale May 19 at 10am eastern time here.
RED HEADED STRANGER IN A LIMITED VINYL RELEASE (June 22, 2016) Go here to order!
SONG BY LEYNA MARIKA P IN NYC (June 22, 2016) Here is a piece from Broadway World on Leyna's music and dance piece Song running four nights from June 29 through July 2 in New York City at HERE Arts Center.
BOOK CARLA IN THE U.K. AND EUROPE (October 7, 2014) Carla has some commitments in Europe in November and would like to book some dates anywhere in Europe at the end of October or November. She is looking to play the U.K. again so U.K. suggestions are welcome. If you can help, contact Wake Up and Dream Promotions -- Use the email link on the home page and write about book Carla Bozulich, attn: Marco.... (Info posted to Carla's Facebook page.)
IMPORTANT ANNOUNCEMENT! NEW CARLA ALBUM OUT NOW (March 9, 2014) Boy is Carla Bozulich's first solo album since 2006. After a string of transcendent albums with the still ongoing Evangelista, Carla will be releasing an album of pop songs, or at least pop songs as Carla imagines them -- short bursts of emotion and the stuff of life -- on March 4 2014. Carla wrote this music and created the album art, but the album also features multitalented Evangelister John Eichenseer of Spoon renown, and Andrea Belfi (who also cowrote a few of the songs.) To gather the details about other guest stars, to listen to a track and to order on CD, vinyl, MP3 or FLAC go here! CD and vinyl purchases come with a free digital download. Also note: The news page has been updated roughly around 1/10/14 but for the most part it is left to languish by the current shrinekeeper. BUT please check the main page for any breaking news that demands immediate attention (such as planned upcoming tour dates as we find out about them and the info on Carla's other recent album releases. (Also like Carla's official Facebook page and Evangelista's official Facebook group for more up-to-date news.)
---
News, Rumors, and... : (Updated April 19, 2017)
"LOST SOMEWHERE BETWEEN THE EARTH AND MY HOME" TO BE RELEASED ON VINYL WITH A NEW TRACK ON MAY 5! (Updated!) For the first time ever, the classic first Geraldine Fibbers album Lost Somewhere Between The Earth and My Home will be released on vinyl. This is the first time the album has been in print at all in over a decade! This comes to fans via Jealous Butcher records... The album, featuring the lineup of Carla Bozulich, Daniel Keenan, William Tutton, Kevin Fitzgerald and Jessy Greene, has been remixed for vinyl by Steve Fisk who originally recorded the album for CD. It features four bonus tracks including a brand new track "Thank You For Giving Me Life" featuring Carla, Bill and Kevin will Nels Cline and Jessica Moss. The record store day official link is here. And the Jealous Butcher link is here... This was originally a Record Store Day release but due to technical issues the date has been moved up to May 5. The first 1,000 people who pre-order here will receive the album on clear vinyl. But we support supporting local stores so let them know that you want your copy...
CARLA TOURING NORTH AMERICA AND EUROPE! Carla will be touring North America during the months of September and October 2011. The tour will be a duet tour with Carla performing songs and improv with John Eichenseer. Expect to be surprised by old favorites, new things, and the usual unusual Carla Bozulich experience. An Evangelista tour follows in Europe in November! Tour dates are listed on our home page. Also expect Evangelista to tour Europe in November and look for a special show with Carla, John and Evangelista's Tara Barnes in Brazil on October 29!
IN ANIMAL TONGUE, Evangelista's newest LP will is out now and, as always, Carla Bozulich, Tara Barnes and Dominic Cramp along with John Eichenseer, Sam Mickens, Shahzad Ismaily, Jessica Moss, Jessica Catron, Thierry Amar, Francesco Guerri, Sophie Trudeau and Nels Cline. The album is recorded, produced, written and arranged by Carla Bozulich. Full information including track listings, musician credits and comments from Carla can be found at this link from which you can also listen to track 1, the gorgeous "Artificial Lamb," and pre-order the album on CD, vinyl or digital download (MP3 or FLAC) from Constellation Records. (And you can also check out the cover, once again by Jesse McCloskey.)
OLDER NEWS (POSSIBLY OUTDATED) BELOW...
THE PRINCE OF TRUTH, Evangelista's newest LP was released on October 5, 2009 in the UK and October 6, 2009 everywhere else and will feature, as always, Carla Bozulich as well as Tara Barnes and new permanent Evangelista member Dominic Cramp. We at thee Shrine count the days! Guest artists include Nels Cline, Shahzad Ismaily, Ches Smith, Lisa Gamble, Jessica Catron, Bobb Bruno, Devin Hoff and many more. Info can be found here and the album can be pre-ordered on CD or vinyl at THIS LINK. The gorgeous cover art is by Jesse McCloskey, creator of the Butch cover. You can take a look at it here! And Constellation is offering a full track for download, "The Slayer," right here! And the amazing, noisy, joy-inducing "You Are a Jaguar" is available as a free download here! What, you didn't order it yet???!!!!! Did you even SEE this promo poster?
And as always, the best part of anticipating a new album is anticipating live shows. If you are in France, England, Germany, Austria or Poland, Evangelista is coming! The current tour dates run from October 9 to early November and can be found here.
NELS AT SCHINDLER HOUSE PAYING TRIBUTE TO ROD POOLE On September 12, Nels Cline, along with Jessica Catron, Devin Sarno, Erin Barnes, Bobb Bruno and more, perform in "Tributaries: Dedicated to the Memory of Rod Poole" at the SASSAS 10th Anniversary Concert in the Schindler House at 835 North Kings Road in West Hollywood, CA. Please attend if you can, both to celebrate SASSAS which has hosted a number of Fibbers-related events including the infamous Fake Party, but also to pay respects to the incredible and sadly missed Rod Poole. See this link for more information. Also, please look for Nels' recent album recorded with Jim Macauley and Rod Poole recorded just before Rod passed away. Information is available here and you can also order the album through most online music retailers including iTunes.
OTHER NELS NEWS If you haven't yet, you should check out Coward, Nels' opus, recorded entirely by himself, also available at most retailers, big and small. Also... the Nels Cline Singers will be recording a live album on September 2 and 3 at the Cafe du Nord in San Francisco so buy a ticket to history.
LEYNA MARIKA P AT GALAPAGOS IN BROOKLYN Leyna Marika Papach will be playing with Novice Theory and Aria Orion on Tuesday, September 1guitar at Galapagos at 16 Main Street (corner of Water Street in DUMBO), Brooklyn, NYC. We love Leyna and she's mesmerizing live - if you are in the neighborhood or even if you have to travel, go! Also: Leyna plays violin on appears on Matteah Baim's fanstastic album "Laughing Boy".
HEAVEN AND HELL -- CARLA WITH MARIANNE FAITHFULL IN GERMANY! Carla Bozulich played with Marianne Faithfull on August 15 and August 16 in a perfomance entitled Heaven and Hell curated by Marc Ribot as part of "A Century of Sound" at the RuhrTriennale arts festival in Düsseldorf, Germany. Mr. Ribot will also be playing and the band includes Greg Cohen (bass), Kenny Wollesen (drums) , Rob Burger (keys), Toni Lakatos (sax), Heiner Wiberny (sax/clarinet), Vincent Segal (vc), and Shahzad Ismaily (multi-instruments and effects) All reports indicated an unforgettable night and we will report more when we can.
YET ANOTHER ALBUM BY CARLA IN 2008: "DANDELIONS ON FIRE" AVAILABLE NOW! Following the release of Evangelista's triumphant "Hello, Voyager," Carla has another new release available. "Dandelions on Fire" is credited to Simone Massaron featuring Carla Bozulich and is released by Long Song Records. The tracks available for preview at Long Song's MySpace page reveal that the album seems to be made up of gorgeous ballads for guitar and vocals, with Carla in great voice and reportedly the writer of the fine lyrics for these songs. There are also some fun pictures at the site. The album is set for release officially on May 12 in Italian record shops but it's already received very good reviews in the Italian press and is available for order through Amazon or the album's Italian distributor Audioglobe.
HELLO, VOYAGER IS HERE! CARLA AND EVANGELISTA ON TOUR! Carla's new album (her first under the new band name "Evangelista") Hello, Voyager was released on February 25 in Europe, March 8 in Canada and on March 11 in the U.S. (and for digital download worldwide) on Constellation Records. The album includes the amazing Carla-penned ballad "The Blue Room" which has been performed onstage by Scarnella, The Night Porter and the Evangelista band. It's finally been captured on the new album. Also, according to Constellation's web site the album features some off "the most rocking tunes Carla has put to tape since the demise of The Geraldine Fibbers" along with material sprung organically from the first Evangelista album. Expect noise, emotion, and another musical roller-coaster from Carla. Also expect a very big recorded version of the title track, a staple from Carla's Evangelista shows.
The core Evangelista band is Carla and the amazing Tara Barnes on bass, with Shahzad Ismaily and Nadia Moss performing throughout the album. Also playing are a number of the same Godspeed! and Silver Mt Zion players from Evangelista as well as Nels on guitar for "The Blue Room."
Detailed information on the album can be found here!
The album can be ordered from Constellation at THIS LINK. It can also be purchased at Insound, Other Music and most other online music services. It is also available for download at iTunes, Zunior, Insound, and Other Music. Like all CST releases, a vinyl version will lots of lovely artwork is also available.
Evangelista will also be touring and dates can be found here!
A preview of the album is at Evangelista's new MySpace page. Make them your friend now!
The project connected to the new album and 2006's Evangelista is now to be known as Evangelista and Carla and Tara Barnes, the two consistent members of the project, are looking to turn Evangelista into a band, and as such are looking for members. A number of talented musicians have been slated for the upcoming tour and may indeed make up a future permanent Evangelista.
Meanwhile Evangelista, the album released in 2006 is still readily available. It was co-produced by Carla and the amazing Shahzad Ismaily of The Night Porter, and the album features an amazing group of musicians, many from Godspeed! You Black Emperor including Efrim and Thierry and A Silver Mt. Zion as well as one-time Fibbers violinist Jessica Moss. It is the masterpiece it promised to be (at least that's the way we feel!) The album is a heart-wrenching, evocative song cycle that includes some of Carla's most beautiful vocals. Included on the album is Carla's blistering version of Low's "Pissing," which left northeastern audiences in a euphoric stupor last summer. The album has been released on CD and vinyl with gorgeous packaging with artwork drawn in glass relief by Nadia Moss. Constellation has posted tons of great Carla-related material including her own artist page, with amazing pictures, details on Evangelista, including track listings and what seems to be all of the artwork. You can also order the record from their online shop. For still more details from Carla herself, see her web site and her MySpace page. Also see the home page of this site for many, many tour dates! (With more to come!)
BILL TUTTON IS BORN IN DEATH VALLEY! We at thee shrine were tipped off this week to a new band out of L.A., "Born in Death Valley" with a fantastic bass player, Bill Tutton! Please visit their MySpace page, listen to their sounds which are an amazing mix of the glammest of the glam with soul and rock... and befriend them while you're there!
CARLA ON THE BOOK OF KNOTS' "TRAINEATER" Just a quick reminder to Fibbers fans... check out the wonderful Book of Knots album "Traineater". Carla leads off the album with "View from a Watertower" which she performed on July 13, 2007 in New York City at the Book of Knots only-ever show. This was captured on video and can be seen here. (Also check out Carla with an all-star lineup doing "Arrow to My Drunken Eye" from the same show!)
---
OLD NEWS ARCHIVE
NELS NEW ALBUM! "New Monastery: A View into the Music of Andrew Hill" will be released on September 26. It's an album Nels is said to be very proud of. The album is already available on iTunes!
THE NIGHT PORTER HAVE ARRIVED! CARLA'S NEW BAND PLAYS SHOWS IN LOS ANGELES, SAN FRANCISCO AND NEW YORK. SONG ONLINE! The Night Porter is a collaborative effort between Carla Bozulich (who you're probably familiar with if you visit this web site), Jessica Catron, Shahzad Ismaily and Ches Smith and from what we've been lucky enough to hear live and through recordings, we can tell you that they put together some vital, compelling pop music. This is Carla's new "rock music" project, sure to please Fibbers fans, but it promises to be a lot more because her three collaborators are fabulous natural artists. The Shrine caught them at Tonic in NYC on Halloween and they did not disappoint. An album is recorded and is scheduled for a 2006 release. You can get a sneak preview of Night Porter by heading over to Jessica's MySpace page where a raw version of "Hello Germs!" and "Monkeys" are available for streaming or downloading! You can also check out the band's web site! Also check out Carla's MySpace page where you can also hear "Monkeys" as well as some other new tracks from Carla.
CARLA AND CHES SMITH'S FABULOUS COLLABORATION STILL UNRELEASED. Carla and fellow Night Porter Ches Smith got together about a year ago and recorded a full 11-track album of collaborations and flights-of-fancy, some of it involving witches, Halloween and dreamlike places between reality and fluffy floating stars. The album is a marriage of vocals and percussion (including vibes and piano and some sampling) and is wonderful to listen to with your eyes closed. Unfortunately, the album isn't being distributed. But if you'd like to hear it, it's available in it's entirety (although slightly out of order!) at Art-On-Air's web archive. (Thanks Daniel S!) You can also hear the lovely "Connected" at Carla's MySpace page.
Carla on The Gowns EP. The Gowns have released a 3" cd on Folktales called "Dangers of Intimacy". This cd includes a song called Apple which features Carla Bozulich on vocals. The CD is available for $4 postage paid to http://www.stardustlanes.com/fibbers/ via Paypal. Go to this link and follow the link to the Gowns: http://www.myspace.com/folktalerecords. The CD will be shipped to you in a lovely, handmade case.
Carla on WFMU 8/21 Carla appeared on Bethany Ryker's Stochastic Hit Parade on Sunday, August 21. Go to the station site and search the archives--stream your damn heart out!!
Carla in the Northeast - thoughts... Carla has finished all her initially scheduled dates for her Northeastern tour, mostly playing bills with Amps for Christ and the Gowns. The shows were spontaneous, emotional and raw with great new songs and new takes on old songs. Carla played with a host of different and exciting performers including Erika and Ezra of the Gowns, Shahzad Ismaily, Carla Kihlstedt, Ches Smith, Jessica Moss, Christian Marclay and Rebecca Gaffney. Those lucky enough to have seen the shows not only got to hear The Small Song, Lilybelle, Yoo Doo Right, The Grand Tour, Arrow to My Drunken Eye and other songs made popular by The Geraldine Fibbers, but also a brand new piece at Tonic in which Carla morphed into a preacher of love, a blistering cover of Low's "Pissing", an overwhelmingly beautiful new piece about the loss of a dead friend and raucous versions of The Carter Family's "Oh Death" - shows had technical mishaps and technical miracles (as when the group at Tonic were able to amp Todd Sickafoose's bass in order to play Arrow with no soundcheck). Carla played at art spaces, art galleries, in a living room, with a raised stage, without a raised stage, in familiar places and unfamiliar places. It was like watching someone start fresh, taking command, jumping without a net and not only landing on her feet but doing a triple sommersault on the way down. And as much as the old material was lovely to hear, the new material was exciting and energizing. The Shrine looks forward to Carla's future as a performer.
Carla in The Wire! Carla was interviewed and featured in the UK's Wire magazine for August, which is available at the present at all the best record shops in the US. Check out the lovely pictures and the fun and informative piece.
Carla In Europe Carla performed at various venues in Europe throughout June. On June 23, she was part of a night of Bertolt Brecht at the Royal Festival Hall in London, performing with the London Sinfionetta as part of a tribute to Brecht that will also included performances by Patti Smith, Antony and the Johnsons, Marc Almond and many others. The show is part of Patti Smith's Meltdown 2005. (We've heard a tape of the performance. Go Carla!) Other shows including a benefit on June 24 at Barden's Boudoir, also in London for the UNICEF fund for the children of Sudan. She'll also recently played the Kilbi festival at the club Bad Bonn in Switzerland on June 10 and at BOA Kulturhallen, also in Switzerland on June 11, as well as some shows in Amsterdam. See Carla's site for further details, news and commentary. Note: Be sure to always check the home page for the latest updates for upcoming Fibber member shows as we hear them. Even more dates are listed there right now! Also to discuss the Fibbers, Carla, Nels and all things related to their music, the gang at the Fibbers e-mail discussion list are usually pretty on-top of things.
Nels and the Giant Pin and more new things. The new album from the Nels Cline Singers was released in late 2004 by Cryptogramophone Records and it is quite amazing. Order "The Giant Pin" now at the record company's web site. Also check the main page for more new releases including Nels and Carla's work on Lydia Lunch's lovely new CD. Also check out this work not mentioned on the front page:
Buried in Bunker Hill by NELS CLINE and DEVIN SARNO released January 2004.
Cry by the Scott Amendola Band featuring NELS CLINE and CARLA's amazing vocal on Bob Dylan's "Masters of War." Available now on Cryptogrampohone.
"X-Ray My Dreams" by NELS CLINE appears on You've Got Your Orders, Vol. 1--an compilation album following this premise: artists were given song titles and asked to write and perform the songs. Also featuring Mike Watt with Thurston Moore, Johnette Napolitano, Mark Arm and others. Available via Chrome Peeler.
THE MOTH WRANGLERS' "Never Mind The Context" - the Moth Wranglers are LD Beghtol of Flare, Magnetic Fields and Three Terrors fame and Chris Xefos, formerly of King Missile - the album will be released this spring and features among others Stephin Merritt, Claudia Gonson, Allison Faith Levy and BILL TUTTON playing contrabass on three tracks, one featuring guest lead vocals by Stephin Merritt. See their website for more details.
CARLA's duet "Maybe a True Love" with Victor Krummenacher on his current album, Bittersweet.
Tom Waits tribute album, A New Coat of Paint, featuring tracks by CARLA BOZULICH and also NELS with LYDIA LUNCH.
---
Old News
Carla EP! MP3 online! Carla's new EP "I'm Gonna Stop Killing" featuring live performances from her last tour has been released. You can order the CD now at Midheaven Mailorder. Also check out Cryptogramophone's site and download the Scott Amendola Band's amazing version of Bob Dylan's Master's of War with apocolyptic vocals by Carla! Also check out Carla's still great Red Headed Stranger album on the DiChristina Stairbuilders label.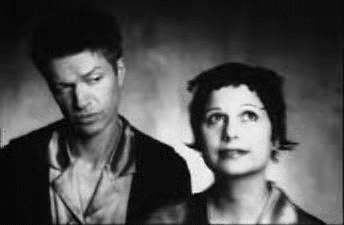 To converse with fellow Fibbers fans, join the Geraldine Fibbers' email discussion list! Click here to join up!
feedback (and factual help!) on this page to Anthony. We miss you, Franny.
Last updated on Ma 18, 2017 -- very, very briefly. Third update in two years.