Writings of Leyna Marika P.
girlz + comix japanese. An article by Leyna for Ben Is Dead, 1998.
Interviews with the Fibbers
Interview with Carla from Curve magazine.
(Thanks to Mademoiselle Rachel.) ILLUSTRATED!

Interview with the Fibbers from BB Gun, published
Spring 1998. ILLUSTRATED!
Interview with the band from Fizz, Fall 1994

Interview with the band from Eye Deal, Winter 1995

Interview with Carla from Rockrgrl, 1997.
(Thanks to Amy.)

Interview with Carla from Arts Weekly, July 1997.
(Thanks to Lord Ouch)

Interview with Carla and Bill from Genre 1997.

A 5/16/96 interview with Carla in the Rocket.

Interview with Carla from the "fabulash" zine Bust

Interview with Carla and Daniel by David Peisner ca. Spring 1996.

Interview with Ethyl Meatplow from Flipside 1991. ILLUSTRATED!
Great article focusing on Nels from the Minneapolis newspaper, Pulse via Jeffrey.

Article on the band from the September 1997 issue of Spin.

Official Fibbers bio for Butch from Virgin HQ.

Profile of Carla that appeared on July 15, 1995 in the LA Times

Article focusing on Carla from New Times Los Angeles, July 1997 (from Lord Ouch)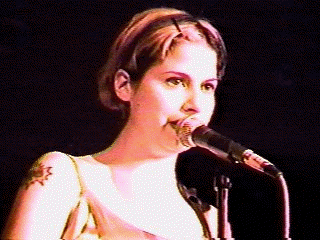 Photo of Carla by Peter DeMattia from a 2/95 show at Maxwell's. Click thumbnail to see full-size image.

Article from Option, December 1994

Fibbers article from OC Weekly. (Thanks to Lord Ouch)

Article about Nels Cline from BAM.

Brief article about Butch that appeared in a recent issue of Billboard.
LINKS TO ARTICLES
Writings of the Fibbers
"The Majic Isn't Happening" by Leyna Marika P. Very funny article from Ben Is Dead 1994. From Lord Ouch's web space.

"Clam Blow Tour Spiel" by Nels Cline. A tour diary from Mike Watt's home page.

"Shinebox Tour Diary" by Nels Cline. Another Watt tour diary with a lot of Fibbers content.

"Putting the Opera To Bed Tour Diary" is by Mike Watt's entire touring crew, including Nels. Nels mentions Carla and "supersweetie" Amy (our friend and caretaker of the Worship Center)... but someone please tell Bob Lee that Randall Hixson runs the mailing list and is not the -ahem- "Fibbers internet page svengali." No fault of Randall's, but... well!
Interviews with the Fibbers
Interview with Carla from Perfect Sound Forever by Meg Wise-Lawrence of Acorn Mush fame. Some commentary and a cyber-chat. A very nice tribute.

Interview With Carla by Silja J.A. Talvi. from the Uno Mas webzine.


Interview with Carla also by Silja J.A. Talvi This interview appeared in Rockrgrl around the time of Butch but it appears here in a slightly different form than in that mag.



Interview with Carla appeared in an Oberlin College publication in 1997. I just have to say that Oberlin is my most hated college...sorry, personal reasons that I hope to get over someday.

Other Articles
A nice little article on Scarnella from SonicNet with some RealAudio clips



GLQ:The Journal of Gay and Lesbian Studies Journal piece about gay and lesbian cabaret that mentions Kiki &Herb covering the Fibbers "Seven or in 10".


Article about the concept of rock n roll survivors


Carla's FAKE PARTY I think this is a press release for her performance art piece in August at the MAK Haus.

Eine Cline Nachtmusik Article on Scarnella from Minneapolis' Citipages

Telling Lies Article on the Fibbers from Plank ezine.

Eat Magazine article on the Fibbers. They never returned the writer's call but he wrote an amusing, positive article anyway.

An article on Carla's artwork from Fizz magazine care of Lord Ouch's web site.



Article by a fan who's also a freelance writer.


An article from Atlanta newspaper Stomp and Stammer with some great quotes from Carla. Good story even if they do spell her name as Buzolich.


An article appearing in Music Monitor, November 1997 which describes the Fibbers auditioning violinists and filming the Tuffy video. Good to see they publish in a timely fashion.

Elaborately illustrated article on the band from HotWired Magazine.