---
The Geraldine Fibbers Tell No Lies
Interview by Bob Bert
BB Gun Issue No. 4 (1998)

Get the issue from BB GUN, P.O. Box 5074,
Hoboken, NJ 07030 (Send $5 cash or money order.)
[Transcriber's note- there's some misspelling of names here, including "Jesse" Greene and Gary "Cale." I've basically just left those. Where there are obvious misspellings or grammatical errors, I've placed my corrections in brackets and in some other spots, I just let it go. - A.]

Visionary goddess, Carla Bozulich, formed the country-flavored rockin' and enigmatic Geraldine Fibbers, as her previous band, the confrontational Ethyl Meatplow were fizzling out after five years. Starting in the early 90's, the Fibbers recorded some singles and a 10" which were later compiled on Sympathy for the Record Industry's What Part of Get The Gone Don't You Understand? Even at this early stage, Carla's unique songwriting, [and] sultry yet passionate voice was apparent. Eventually, [they] signed to Virgin records, debuting with the dreamy Lost Somewhere Between the Earth and My Home. After the departure of guitarist Daniel Keenan, guitar whiz Nels Cline joined the band along side drummer, Kevin Fitzgerald, bassist, William Tutton and Jesse Greene on violin. Nels Cline borne from the sonic school of guitar licks found a perfect compliment with Carla's stylings. The band fully found their vision with their excellent record, Butch, recorded by John Goodmanson (Bikini Kill, Blonde Redhead, Sleater-Kinney). Violinist, the lovely Leyna Papach joined the Fibbers after the split of Jesse. This past year I was lucky enough to join them on the road for ten shows with the Chrome Cranks. They blew me away every night. - BB
Where were you born?
Carla- New York City, on 120th and Amsterdam. Then my Mom grabbed me and my sister and left my father lying there in a puddle of his own goo and moved to Greenwich Village. That was in 1965. Then before I was two years old, we moved to San Pedro, California and she married my stepfather and that's where I grew up.
Do you remember the Minutemen?
Carla- I was pretty young but I met all of them when I was in the 7th grade. I didn't know anything about them but I knew that I could go to George and Greg Hurley's house when I was ditching school. I didn't know that they were considered part of the punk rock scene,' I just knew that they were an ass-kicking band from Pedro.
What was the first punk rock show you went to?
Carla- The first show I ever went to I was scared to even go inside.. I was around thirteen years old. I went to the Starwood with this crazy guy and I was a super-shy person. I have changed a lot. That's the biggest change I've had in my life. There's no way I could've had this conversation with you up until I was eighteen or nineteen.
How far is San Pedro from L.A.?
Carla- About 30 miles. It's not a suburb, really. It's its own city which is one of the few places around L.A. that you can say that about. It's very insular. I worked as a live-in maid for this man Paul Smith, who was the pianist for the Ella Fitzgerald group. Stayed with whoever I could and finally worked up the nerve to move up to L.A., which I wanted to do for a long time.
When did Ethyl Meatplow form?
Carla- 1988. The band was together for five years.
Were you playing in bands before that?
Carla- My first band was the Neon Veins. That was really fun. When I was sixteen, we played the Cafe Grande and places like that.. then I was in a group called the Invisible Chains. I did some stuff with Gary Cale's Zurich 1916.
[Were] there any records recorded with these bands?
Carla- Yes. The Neon Veins recorded a bunch of songs, like twenty but we never put it out. I think it's lost but I'd like to find it because I really liked it. We were into the Germs and 45 Grave and John Cage, Stockhausen and Donovan.(laughing) ..The Neon Veins and Zurich 1916 made an album on Iridescence.
Did you like the Germs?
Carla- They were my No. 1 favorite band, for sure. When I heard that music it just put me at ease, not in a relaxing way but in a way that made me a bit insane...it was real, real good. I had many years where all I did was drugs and then I did Ethyl Meatplow when I was off drugs.
Whenever I read any press about you, they always harp on your decadent past life. But wasn't that actually a long time ago?
Carla- A real long time ago. It's very annoying to me. I got clean when I was twenty-one. I've been straight-edge ever since.
I never heard Ethyl Meatplow but I'm under the impression that it was heavy and sorta industrial.
Carla- I never thought of it as industrial but we toured with a lot of industrial bands. I hate industrial music. Although, I really liked Foetus and Throbbing Gristle. People pretty much hated us because we programmed a lot of our music shamelessly. Most of our fans were queers and it was basically a great time. We attracted the homosexual population that was more subversive. It was very softcore and watered down back then. The thing I loved about Ethyl Meatplow is that we never had two shows that were alike. It was always different and most of the audience generally ended up onstage.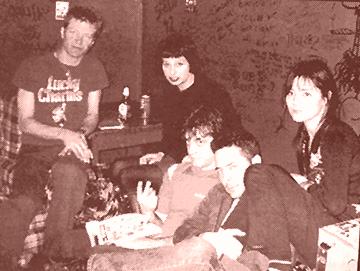 That's what makes a good band, to be willing to take chances.
Carla- We sorta had an unspoken manifesto. We had no guitars and it was a rule with us because we were trying to piss people off. We started at a time in the late '80's when everything was so rock. Heavy metal merged with punk in this gross way so we formed this band to piss people off. We weren't going to have any guitars. We wanted to blow people's asses off and we did that for years. Five years later it was 1992 and I felt like the whole thing wasn't relevant anymore. I decided that I wanted to play guitar in the band, which at the time I didn't know how to play, which I thought it would be cool. No more power chords and more noise. The other singer didn't agree and he quit. That was fine because the Geraldine Fibbers had just formed and we were having a good time, so the Fibbers kept going.
That seems like quite a contrast in musical sounds.
Carla- It kind of is... The other thing about Ethyl Meatplow was the sexual focus. The words were blatantly sexual, semi-perverse. The songs that I wrote in that group and the ones that I write now, it's quite the same. Many of the songs that the Fibbers have, I already wrote back then. Sometimes EM was asked to play acoustic and we would get guitars and play country songs. It was a joke because there is no way to play a sampler acoustic.
Early Geraldine Fibbers' records sound like very straight forward country music. Now with Nels and Leyna in the band, it's great because some very different musical directions and ideas are combined. It makes the band so unique.
Carla- Yeah, well Nels is an inspiring person to be around.
He's a pretty recent member?

Carla- Leyna's the newest member. Nels did the last two tours for our last album because Daniel's arm was fucked up. After that we started writing the next LP and it was pretty much all written. Then Daniel left the band. We were two weeks away from recording the album and we asked Nels if he wanted to play on it. He said, yeah. So we wrote a few more songs with him and he joined as a permanent member, which is a godsend for us.

Are you thinking about the next album? Are you happy with Butch?

Carla- I love both of the albums and even the first one (Sympathy). I am so excited about making a new record I can barely keep my mind on what I'm doing sometimes! It's gonna be cool because Nels and Leyna will be here. Leyna is such an amazing player and the way her mind works is just brilliant. It just makes everything such a pleasure.

Do you live in Silverlake?

Carla- I did before the deluge. It's really disgusting now. I had to get the hell out of there. I like to be in a quiet place when I am home. I don't want to live somewhere where everyone is checking themselves out in the rearview mirror while driving down the street.
(after a discussion about their label situation, I get to talk to the other members of the band...)
Who are the top five bass players that rule your world, William?
William- In no order... the guy who plays on the James Brown records, the guy who plays on the Motown stuff.
So you are not naming names?
William- ...the guy who plays on the Led Zeppelin records, James Jameson. Bootsy Collins of course. John Paul Jones and Paul McCartney. Then I got into other people that were really dumb like Dee Dee Ramone. Dumb.. meaning very simple. It was like "How can I play like that after all the Stanley Clarke bullshit?"
How did you meet Carla?
William- Voodoo. It was an amulet that she wore...she was going out with my friend, Daniel.
Leyna, what was the record you ever bought?

Leyna- I bought a Cyndi Lauper record in the 5th grade.

Girls just wanna have fun!

Leyna- Yeah.

Can we leave Peter here and take you home with us?

Jack Martin (Chrome Cranks' buddy)- Her pants aren't tight enough.

What was the first concert you went to?

Leyna- T.S.O.L. in St. Louis.

Tell me about your motorcycle boyfriend in Japan.

Leyna- (laughing) He was bad...really BAD!!
Favorite fast food restaurant?
Leyna- I prefer sushi but the best fastfood place is in Kansas City and it's called Chubby's.
What brand cigs do you smoke?
Leyna- Merit because I've got merit.
Kevin, what's the top five drummers that you admire?

Kevin- Bob Bert, the obvious.

Something I can print please.

Kevin- Tyler from Braniac. Brandon from Ludafist. Laura from the Eyeliners. Buffy from the Subsonics. Allen Myers from Devo.

You grew up in Alaska..what was the first concert you went to?

Kevin- Tower of Power.

First record you bought as a kid?

Kevin- Delta Dawn by Helen Reddy. The Morning After by Maureen McGovern.
Nels, top five guitar players that changed your life?
Nels- Jim McGuinn.
Meaning Roger McGuinn?
Nels- Yeah, I always call him Jim 'cause that's what he was called when he changed my life. Jimi Hendrix. Jim Hall. Tom Verlaine. Thurston Moore. Lee Renaldo. Derek Bailey. Arto Lindsey.
No women?
Nels- I enjoy Carla's playing!
First show?
Nels- The Byrds in Central Park, NYC, 1967.
Carla- Tell him what you didn't go see in order to see the Byrds.
Nels- The Mothers of Invention at Cafe Au GoGo.
When was the first time that you saw Sonic Youth?

Nels- At Club Lingerie. Bad Moon Rising tour. And at the Anti-Club, two nights later. I saw Oregon earlier in the evening and then Sonic Youth. That encapsulates the oddness of my life right there.

How many guitars do you own?

Nels- I dunno....14?
Carla, what book are you reading?
Carla- Life After God. It's a pop culture fiction novel. Really good.... Dancing Queen by Lisa Carver.
How many cats do you have Carla?
Carla- Three.
What are [their] names?
Carla- Little Fluffy. Shy Girl and Runaway.
What's the most rock and roll thing you have ever done in your life?
Carla- Giving someone a blowjob, as I was driving the car in the fast lane of the freeway with them steering...because obviously I couldn't see...me working the accelerator and brakes..by them telling me to slow down or speed up.
Whoa!
Jack Martin- How did you know if he wanted you to slow down or speed up, blowing or driving?
Can you top that Nels?
Nels- Definitely not!